ABOUT US

The Revelators (of North Alabama) is a southern gospel music group committed to serving Christ through song and fellowship. In 1975 a group of friends located in Phil Campbell, Alabama decided to form a quartet by which to share the gospel in song. Over the decades there have been changes in personnel and songs performed, but the thrust of their music remains unchanged. The current members of The Revelators are Jackson Pyle, lead; Angie Brown, alto; Hershell Brown, baritone; Tony Brown, bass; and Debbie Turner, piano.

With a combined total of more than a century of experience in southern gospel music, the current members of The Revelators provide audiences with a program of songs spanning the majority of the genre's lifetime. Four-part harmony accompanied by live musical arrangements incorporates energy and emotion, uplifting and encouragement, and ministry in an entertaining fashion. The Revelators have performed before crowds ranging from 15 to 15,000 while appearing in almost every kind of venue imaginable from cattle arenas to concert halls. The group has been extremely blessed to have been able to travel and perform over the decades funded almost solely by love offerings and product sales. All bookings are on a first-come, first-served basis.

In 1984, The Revelators entered Mark Five Studios in Greenville, SC to record their first studio project. As the group evolved and personnel changes occurred, other recordings followed. The group recorded their 16th project, Steppin' On The Clouds, in 2009. Unfortunately, many of the earlier recordings are no longer available as the master copies were destroyed in a fire. A few projects are available only in cassette tape format, with the remainder in cassette and/or CD format..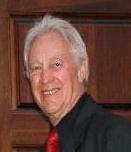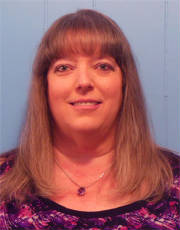 Angie Brown (alto)
Angie comes from a long line of gospel singers, from her grandparents to her parents. She was brought up attending gospel singings and cannot imagine a life without those weekend trips. Angie began singing alto with The Soul Seekers, filling in for Nell Brown during medical leave. She performed with The Soul Seekers for approximately a year. After that, she enjoyed going with her parents, alto and baritone singers with The Soul Seekers, for several years.
In 1990, she was asked to join The Joyful Hearts as their lead singer. Entering new territory as a lead singer proved that God works where He wants. The lead position in a group is a challenging position, but she felt that was what God wanted. When The Joyful Hearts disbanded, she decided to join her family in song with The Singing Browns. The Singing Browns enjoyed spreading the gospel for several years before finally disbanding when some members wanted to retire. Although God was not through with Angie yet, she enjoyed a respite from the hectic life of a gospel singer for a few years. In 1996 Angie was contacted about her interest in singing again with The Revelators. It was a decision easily made. Angie has been singing alto with the group since.
There have been many amusing incidents over the years of singing gospel music. The very first singing Angie ever had with The Soul Seekers produced a heart attack in the audience. For a superstitious mind, that would have been indicative of a bad singing career. As it turns out, it wasn't actually Angie's voice which brought on the attack, and the gentleman is alive and well today. She still laughs when recalling that incident.
Angie's brother, Tony, is the bass singer for The Revelators. Her parents are Hershell and Nell Brown. She enjoys traveling and making friends each weekend as a perk of singing Southern Gospel music. She currently resides in Decatur, Alabama. Angie thanks God every day for this opportunity to spread His word and will continue as long as she feels the Lord wants.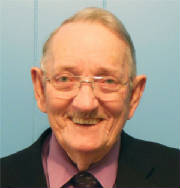 Hershell Brown (baritone)

Hershell began singing publicly at the age of 14 as a member of a Future Farmers of America (FFA) quartet. That year, 1954, the quartet placed second in countywide competition. At age 15, Hershell began singing baritone and, along with three of his schoolmates and a pianist, the quartet performed at whatever church would allow them to sing, usually during convention singings. This quartet lasted about two years before members decided to go their individual ways.

Jim Brown, Hershell's dad, was a songwriter and arranger who taught Hershell some music fundamentals. Hershell later learned the rudiments of shape-note music from Ralph, one of his older brothers. During his teens, he even squeezed in a few piano and organ lessons.

Hershell was active in convention singing until after his marriage to Nell in 1961. Shortly after their marriage they relocated to Columbus, Georgia, where they became charter members of three different quartets. One of these, The Pilgrims, appeared throughout the southeast with some of the biggest names in Southern Gospel music during that era. Backed by a full band, The Pilgrims made a number of local television appearances and, for a time, were regulars on "At Home With Rozelle", an early morning television show. The Pilgrims released four recordings and enjoyed much popularity. Hershell, and his family, returned home to North Alabama in 1975.

After a three-year hiatus, Hershell and Nell became members of The Soul Seekers and were involved in three recordings. The Soul Seekers performed for eleven years before making the reluctant decision to disband due to age, fatigue, etc. During the months following, he and some of the former members decided to form a new quartet called The Joyful Hearts. They performed together for about a year when personnel changes resulted in an all-family quartet being formed. Thus was born The Singing Browns. They released their only recording in 1993. Again, age and fatigue drove Hershell and his wife to retire from gospel singing.

Hershell believes he was instantly and miraculously healed of a hemorrhaging kidney in 1998. He believes that this "thorn in the flesh" was a direct result of his failure to heed God's calling on his life to sing gospel music. The calling to sing drove him to try out for the baritone singer's position with The Revelators in 1999 following the untimely death of long-time baritone and emcee, Rev. Rayburn Terry. He was accepted and remains until this day a dedicated member, always striving to follow God's lead in his life. He admits to making some real blunders along the way, but is quick to point out one of his favorite scripture passages: "All things work together for good to them that love the Lord."

Throughout the years, Hershell has adhered to one principle in his singing career -- sing nothing except songs that reflect Bible-based principles or that offer hope and encouragement to a lost world. One of his favorite songs, "I Want To Stroll Over Heaven With You", offers hope to everyone who hears it. Songs such as this reflect the true witness of Hershell (H.C.) Brown.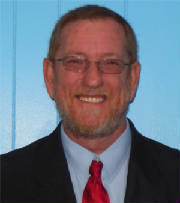 Tony Brown (bass)

Tony began singing bass in 1990 with The Joyful Hearts. When that group disbanded, he and several members of his family formed The Singing Browns. Then, in 1997, he auditioned for, and was selected as, the bass singer for The Revelators Quartet.

One of his fondest memories comes from his first public appearance at Petersburg Baptist Church in Petersburg, Tennessee. "I noticed that some people in the audience kept craning their necks as if they were looking for someone standing behind me. After the singing was over, a little lady came up to me and wanted to know where we were hiding the drummer. It was at that point that my dad told her that we didn't have a drummer -- that was just my knees knocking together hard enough to rattle the windows!"

Over the years Tony has learned to control his nerves while continuously striving to improve upon his talents. He admits to receiving great pleasure from being able to share Southern Gospel music and its message with people in the Southeast. He also admits enjoying the fellowship with old friends and new friends alike that being with The Revelators affords.

Tony's parents (H. C. and Nell Brown) have also been members of various Southern Gospel groups over the years. Through their experiences, and those of his own, he has grown to respect the amount of dedication and commitment necessary to travel and share the gospel through song and deed. Tony and his wife, Sharon, celebrated their 25th wedding anniversary in August 2006. They currently reside in Athens, Alabama.
Contact The Revelators Quartet:
phone: 256-353-2133 or 256-230-3822
mail: The Revelators Quartet, c/o Tony Brown; 502 10th Avenue; Athens, AL 35611



We are all just notes waiting to be shaped and placed on God's music staff of life.